BridgeWhiz Grads Move Onto F2F Games
The American Contract Bridge League Educational Foundation (ACBLEF) provided free ACBL Junior memberships to graduates of the 2021 BridgeWhiz program. And, we are thrilled to share the news that ten Juniors have earned masterpoints at the Providence Youth NABC and one has already played in 25 digital club games.
And some parents and grandparents are taking their BridgeWhiz grads to ply in F2F games at their local clubs. Here is why this is exciting:
BridgeWhiz kids are getting the best "first partner" (and cheerleader) they can get.
Juniors are learning how to focus longer, and in one club game, that meant an endurance test of 28 boards.
ACBL member can introduce their BridgeWhiz graduate to club friends and opponents, some of whom may share their own bridge knowledge (taken in the spirit it's given) after the game has been completed.
Kids are learning bridge concepts and lingo in a less stressful environment with (grand)parents to explain the idiosyncrasies of the game.
Bridgewhiz kids are using the ACBL Junior Membership underwirtten by the ACBLEF.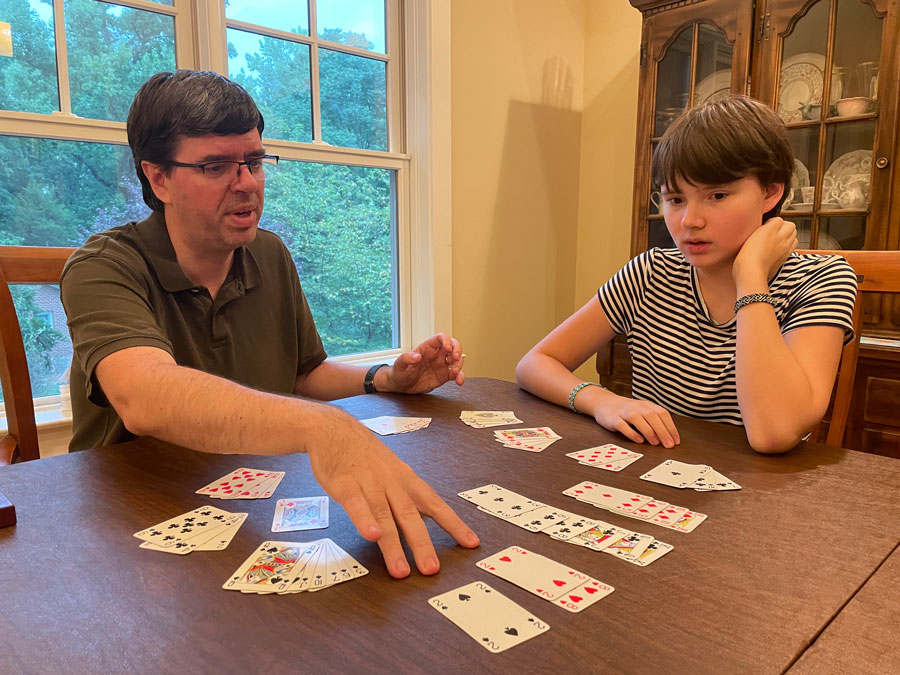 Craig DeAlmeida and his daugher, Genevieve, a BridgeWhiz graduate, have already played four games together at the Triangle Bridge Club of Durham, NC. Here's what Genevieve had to say about the experience:
"It was amazing! People at the club were quite welcoming and were excited to see a new face (well, half of one with masking!), and made great competitors. I met people with games at my level, and quite a few who were more advanced. Everyone was quite happy explaining their bids and I even had to explain a few of ours a couple times. I must admit I got nervous every time, but a few hands in it became comfortable. All in all, it's an exciting experience – even if you don't win! I'm still trying for my first masterpoints!
You can still sign up for the 2022 BridgeWhiz course which begins in October, 2022.