The Kids Table: Movie Gets Cheery Reception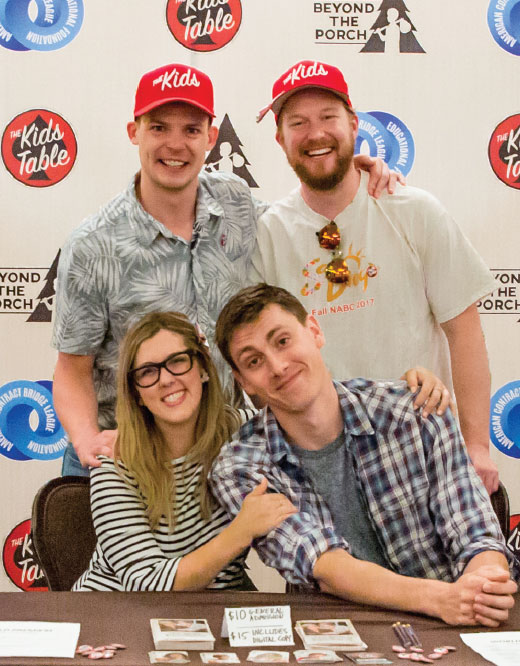 "The Kids Table" was a big hit with the audience of about 100 people who attended the world premiere on Sunday. There were lots of laughs throughout the room during the screening, and it was still full when the time allotted for the question and answer period expired.
The movie follows four millennials learning bridge as complete beginners over the course of a year as they take private lessons, play in Los Angeles-area clubs and compete in their first tournaments.
A red carpet event preceded the screening, and people lined up take pictures with the cast of the bridge documentary: filmmaker Edd Benda, comedian Monique Thomas, gamer Stefanie Woodburn, actor Paul Stanko and bridge teachers Samantha MacDouglas and Brian Reynolds. Co- director Stephen Helstad joined them for the panel discussion afterward.
Benda announced a distribution deal. The film will be available Sept. 17 on iTunes, Amazon, Vudu and DVD. Information and links will be available here.
It was clear that the film struck a chord with those present. "We have hundreds of hours of footage of these guys playing bridge," Helstad told the crowd. "We really looked to find the human moments. The lucky thing is they each had a different experience. If they all loved it or they all hated it, it wouldn't have been as good. Hopefully everyone can enter the game through one of their experiences."
Thomas was most enthusiastic about the game, studying daily when they started their lessons, and she still is: She just became a certified bridge teacher hours before the screening. Benda also embraced it quickly as it ignited his competitive drive but became frustrated when he wasn't progressing as quickly as he hoped. Woodburn didn't put as much effort in but found herself the best player of the group. Stanko never liked the game but grudgingly admitted it had its moments.
The four's emotional journeys to becoming bridge players are front and center throughout the film, and the moments that highlighted it got the most reaction. The room erupted in cheers when Benda and Woodburn got their first win in an I/N pairs event in San Diego.
Benda said he set out to make a sports movie. Before production began, he asked MacDouglas and Reynolds if they would prepare his cast of complete beginners to compete in a national championship within a few months. "From the outset it became clear that wasn't going to be our journey," Benda said.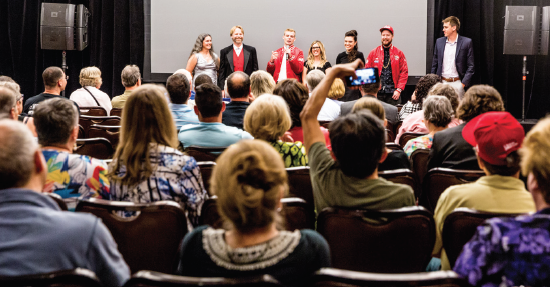 He and Helstad also struggled with how much time they should spend explaining bridge – something Helstad deliberately avoided learning. "I wanted to approach this from a layman's perspective," he said. He also didn't worry about selling the game. "The game of bridge has to sell itself. Our concern was how do we tell an honest story about the game."
That story involves a fair amount of criticism of the ACBL. Not everyone in attendance felt as warmly about the movie as others in the audience, which gave a standing ovation. Some ACBL Board members were discussing it on Monday. They enjoyed the movie but thought it was too negative.
One questioner asked whether 2018 President Jay Whipple was intended to be portrayed as "lead- footed." Benda answered that he thinks the ACBL does a great job of serving its current members, gave credit to successful programs that recruit very young players where they exist, and praised the support his movie has received from both the ACBL and the Educational Foundation as an example of forward thinking by the League.
"But there is a gap – a young professional gap," Benda said. While "the kids" encountered a great deal of players much older than them and, at NABCs, a fair amount of younger players, they didn't find any their own age – late 20s and early 30s.
Thomas noted that the vast majority of players she encountered told her they learned bridge when they were young and then took a 30-year break before coming back to it. But the fewer people who learn when they're young, the harder it will be to get them to come back 30 years later.
"I have so many friends who would benefit from bridge. They were so intelligent in high school, but they had no outlet for their intelligence," she said, explaining that she wanted to see widespread awareness of the basics of bridge. "If this became a part of general knowledge, the issue would be solved."
Woodburn suggested that online bridge sites need better graphics to attract players accustomed to what video games offer. "If it was a better visual, I think so many people would do it," she said.
For their part, MacDouglas and Reynolds are developing a website where they will offer video lessons. "Our hope was we could show people, if you try this game and it is for you, you'll play for the rest of your life," Reynolds said. "We're just trying to expose as many people as we can to the game."
Article provided courtesy of the NABC Daily Bulletin
Editors: Paul Linxwiler, Chip Dombrowski, and Sue Munday