Ready. Set. GO!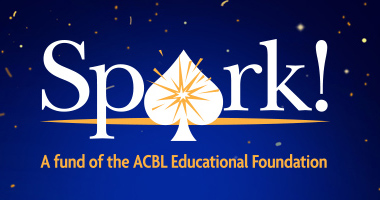 Join us for a one-of-a-kind opportunity that connects the world of champions, celebrities, authors, and legends with your love for bridge at the 2nd Online Charity Auction and Pro-Am Event benefiting
the Spark! Fund.
We have three exciting options for you to help support youth bridge!
Option #1:
Play with a Star, a Friend, or Kibitz the Live Pro-Am
Play with a Star:
Bid on an amazing array of world champions, bridge celebrities, authors, and legends to partner with YOU in a thrilling 20-board online Pro-Am game! Experience the excitement as you interact via voice and video, win prizes, and have a blast playing alongside your bridge heroes. After the game, join an exclusive online after-party to mingle and connect with the experts!
Play with a Friend:
Grab a partner and challenge the stars! All entries include full access to the after-party.
Section A: $500/pair (Limited to the top 35 pros + 5 non pro-am entries available)
Section B: $100/pair (Next tier of pros + unlimited non pro-am entries)
Section C: $50/pair (Amateur section)
Kibitz with a "Backstage Pass":
Join Section A and enjoy interactive commentary from ACBL Executive Director Bronia Jenkins and renowned bridge writer and player Barry Rigal on a delayed feed. For a mere $10 donation, you'll also receive an exclusive invitation to the online after-party!
Option #2:
Learn from a Star at Any Time
Bid on BBO games, one-hour lessons/conversations with your bridge heroes, and other lesson formats! You can arrange the date and time to fit your schedule, ensuring a personalized learning experience.
Option #3:
Donate Directly or Buy for a Friend
Can't participate but still want to support our cause? You can make a direct donation here. Alternatively, consider purchasing an auction item as a thoughtful gift for a friend!
All proceeds will go directly to the Spark! Fund, an ACBLEF program supporting a new generation of bridge players through collegiate bridge, international tournaments, and a variety of youth bridge educational programs.
More items will be added to the auction throughout the first half of June, so keep checking back for more to bid on.